Microsoft Teams Outage Map
The map below depicts the most recent cities worldwide where Microsoft Teams users have reported problems and outages. If you are having an issue with Microsoft Teams, make sure to submit a report below
Loading map, please wait...
The heatmap above shows where the most recent user-submitted and social media reports are geographically clustered. The density of these reports is depicted by the color scale as shown below.
Microsoft Teams users affected: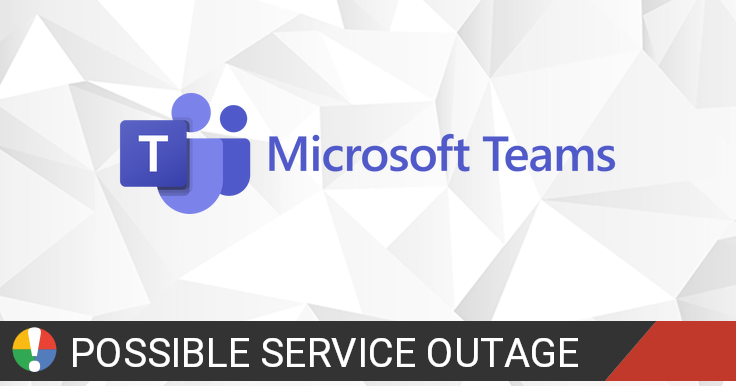 Microsoft Teams is a unified communication and collaboration platform that combines persistent workplace chat, video meetings, file storage, and application integration.
Check Current Status
Most Affected Locations
Outage reports and issues in the past 15 days originated from:
| Location | Reports |
| --- | --- |
| London, England | 53 |
| Manchester, England | 13 |
| Bogotá, Distrito Capital de Bogotá | 12 |
| São Paulo, SP | 8 |
| Medellín, Departamento de Antioquia | 6 |
| Rio de Janeiro, RJ | 5 |
| Mumbai, MH | 4 |
| Glasgow, Scotland | 4 |
| Leeds, England | 4 |
| Melbourne, VIC | 3 |
| Delhi, NCT | 3 |
| Reading, England | 3 |
| Slough, England | 3 |
| Lima, Provincia de Lima | 3 |
| Sutton Coldfield, England | 3 |
| Toronto, ON | 3 |
| Bristol, England | 3 |
| Poznań, Województwo Wielkopolskie | 3 |
| Milton Keynes, England | 3 |
| Barcelona, Catalunya | 3 |
| Brisbane, QLD | 2 |
| Sydney, NSW | 2 |
| Montréal, QC | 2 |
| Nellore, AP | 2 |
| Puebla, PUE | 2 |
| Phoenix, AZ | 2 |
| Seattle, WA | 2 |
| Loughborough, England | 2 |
| Nottingham, England | 2 |
| Leicester, England | 2 |
Community Discussion
Tips? Frustrations? Share them here. Useful comments include a description of the problem, city and postal code.
Beware of "support numbers" or "recovery" accounts that might be posted below. Make sure to report and downvote those comments. Avoid posting your personal information.
Microsoft Teams Issues Reports
Latest outage, problems and issue reports in social media:
Gregor Wolf

(@wolf_gregor) reported

@MicrosoftTeams Let's see when this get's fixed. I've used the feedback function. But is there a way to track the issue?

freestyle unity stan account

(@Malamin_J) reported

Pls shut down real quick 🙏🏾 @MicrosoftTeams

Björn

(@bstrobach) reported

Does anybody know if it's possible to login into multiple org accounts in @MicrosoftTeams - Or when it is available?

aggie 🥕🍎

(@queenbeetheag) reported

from Santa Fe, New Mexico

.@MicrosoftTeams stop shutting down on me challenge 😭

Jehanzeb Navid

(@JehanzebNavid) reported

@windowsinsider @MicrosoftTeams Useless feature, doesn't allow me to login using university credentials and constantly asks for a personal account to be used whilst Microsoft Teams already installed. It should have been one version or the other. Let's admit it, it's a badly attempted!

V 🖤🎃

(@valchanelle) reported

I'm so aggravated. @MicrosoftTeams and their odd login credential set up is preventing me from joining my presentation today. It keeps taking me in circles when trying to log in. This is why people use @Zoom. Simple access without all the extra shenanigans. 😡😡😡

Akash Nai

(@akashnai_) reported

@windowsinsider @MicrosoftTeams And I can't login with my school email to attend lectures😑. Had to download another ms teams. Even its integrated in win11. Totally disappointed.

Chris Anderson ✨🪐

(@crandycodes) reported

@bitandbang @MicrosoftTeams It wasn't broken before, so just curious if something changed recently or I'm doing something wrong. It really had made Teams way less useful.

Jeremy Thake

(@jthake) reported

.@MicrosoftTeams breakout rooms really need a giant count down timer that overlays main canvas, not a small status bar notification of 10 secs. It is so abrupt being pulled back into main meeting with camera and mic hot too, should remember state. Its the little things.

Midoriya

(@Midoriy77288105) reported

@MicrosoftTeams I can't login teams with message : "We couldn't connect to the internet. Try checking your connection. ". But Skype is work well. Why?

mónica 🏳️‍🌈 weak for women

(@bennetxmalik) reported

@MicrosoftTeams FIX YOUR APP

Fully vaccinated Rik D'huyvetters

(@RikDhuyvetters) reported

It's getting even worse. Now teams isn't showing the answers I post in a thread until I turn it off and on again. @MicrosoftTeams I'm afraid there is something fundamentally broken in Teams.

Cori 🔜 #FETC

(@MakingCentsOfIt) reported

@ketheredge @MicrosoftTeams Okay. That seems to be the issue they're having so it seems based on your response and @congerjan, it seems like it's not their computer specifically. I'm just glad incorrect information when I told them something similar. That's why I wanted to check with the #MicrosoftEDU PLN.

Matt Hames

(@mhames) reported

One thing that drives me batty about the UX on @MicrosoftTeams is once you like something, you can't tell if you liked it or not. If you want to know, you have to click "like" to see if the number goes up or down. Sucks on an all-company chat.

Devon Zara

(@devonzara) reported

@postnick @windowsinsider @MicrosoftTeams Firefox was my go-to in the mid/late 00s, but it then had huge memory leak issues… Ive used Chrome ever since, but have thought about going back to FF. I'm kinda protesting Edge because of how long it took them to ditch their engine and how much they shove it in my face.
Check Current Status