Amazon Web Services Outage Map
The map below depicts the most recent cities worldwide where Amazon Web Services users have reported problems and outages. If you are having an issue with Amazon Web Services, make sure to submit a report below
Loading map, please wait...
The heatmap above shows where the most recent user-submitted and social media reports are geographically clustered. The density of these reports is depicted by the color scale as shown below.
Amazon Web Services users affected: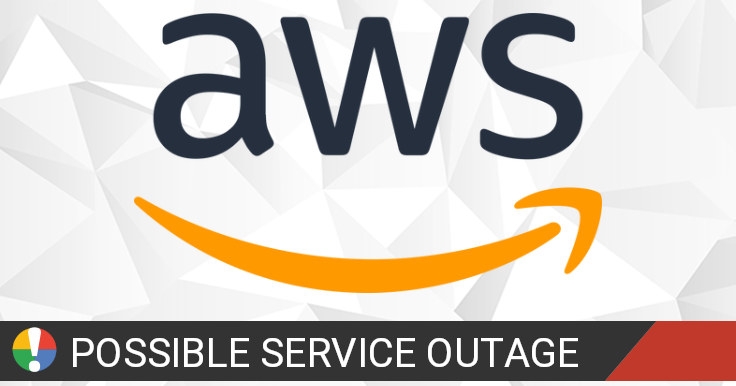 Amazon Web Services (AWS) offers a suite of cloud-computing services that make up an on-demand computing platform. They include Amazon Elastic Compute Cloud, also known as "EC2", and Amazon Simple Storage Service, also known as "S3".
Check Current Status
Most Affected Locations
Outage reports and issues in the past 15 days originated from:
| Location | Reports |
| --- | --- |
| Bogotá, Distrito Capital de Bogotá | 2 |
| Mumbai, MH | 2 |
| Passo Fundo, RS | 1 |
| Alegre, ES | 1 |
| Bromsgrove, England | 1 |
| Jersey Shore, PA | 1 |
| Bengaluru, KA | 1 |
| Crawley, England | 1 |
| Durham, NC | 1 |
| Neubrandenburg, Mecklenburg-Western Pomerania | 1 |
| Pasto, Departamento de Nariño | 1 |
| Miranda de Ebro, Castilla y León | 1 |
| Glasgow, Scotland | 1 |
| Newark, NJ | 1 |
| San José, Provincia de San José | 1 |
| Houston, TX | 1 |
| Florianópolis, SC | 1 |
| Gliwice, Województwo Śląskie | 1 |
| Delhi, NCT | 1 |
| Andradina, SP | 1 |
| Cuauhtémoc, CHH | 1 |
| Caracas, D.F. | 1 |
| Garopaba, SC | 1 |
| London, England | 1 |
| Baltimore, MD | 1 |
| Concepción del Uruguay, ER | 1 |
| Jacutinga, MG | 1 |
| Fort Collins, CO | 1 |
| Troutman, NC | 1 |
| Morelia, MIC | 1 |
Community Discussion
Tips? Frustrations? Share them here. Useful comments include a description of the problem, city and postal code.
Beware of "support numbers" or "recovery" accounts that might be posted below. Make sure to report and downvote those comments. Avoid posting your personal information.
Amazon Web Services Issues Reports
Latest outage, problems and issue reports in social media:
Joz Valent

(@ValentJoz) reported

@AyladPlays @timgroote @KenneyNL Blockchain POW removes intermediaries. It's the disruption of the century. Instead of having the internet ran by Amazon AWS or Googles Server like now. Blockchain makes hosting a peer to peer consensus, anyone can become a server and no one can stop it. Do some research.

Samarjayee

(@samarjayee) reported

@awscloud your support is damn slow, been 20m still none took it up. There's no proper channel to reach out on an emergency basis when you can't log in back to the console. Are you more hacker-friendly or what?

Mike Chaliy

(@chaliy) reported

@ben11kehoe @AWSSupport I am doing this PoC under my personal account, and I do not have support subscription that accepts support cases. So my hope they will read a feedback and react. I was thinking on doing stripped down repro, but with feedback system, I do not feel like somebody will care.

piyush sharma

(@piyushs90251803) reported

I have some issue according to my Apple Watch after I got damged and duplicate item @awscloud

Eric Buono

(@ArchitectEric) reported

@MBLeib @CTOAdvisor @awscloud In IT, it's not a matter of if something will fail, it's a matter of when. If AWS has a region failure, you should be in another region. If an AZ fails, you should have HA across regions. No difference in private cloud and multiple datacenters. The issue is cost vs SLA contract.

PeteNub

(@PeteNub) reported

If you ever have an @awscloud issue, you will get passed between call centers for days, reps will say theirs hands are tied over and over, no case handler is ever the same. There's no limit to the damage any hack to your account even if billing is out of date

Dibyanshu Mohanty

(@DcodeM) reported

@awscloud Please provide your premium server service to my college because they won't afford it on their own ! Server crashes delays time of registration from 2 to 6 . Much Wow with the Software team of the college 😶

saucy

(@sevtamatarface) reported

@PearsonVUE Hi, I received 2 mails asking me to reschedule my Amazon AWS exam. They looked suspicious. Now when I log into my Amazon Partner Network, via Pearson, I see that the exam date is as is. But when I login thru Pearson customer care, it shows another date. What is this??

Abraham Milano

(@AbrahamMilano) reported

@awscloud's sign in captchas make me doubt my human condition… #ExistentialCrisis #Robot #NotAHuman

Bob Wise

(@WiseCub) reported

Both @Walgreens and @cvspharmacy web sites are down for updates. Seriously, on a Monday afternoon? Did @awscloud crash again or is there more going on?

PeteNub

(@PeteNub) reported

.@AWSSupport you are trying to charge me $2500 from fraudulent use, you refuse to escalate my issue to a non-call center. Why would anyone use your service when you can't fix a simple billing issue after 20 days?

Cyril

(@cyrilokolie) reported

@jckjones861 Yeah the buffering is terrible ; and they are meant to have their own servers as well @awscloud

Bbjnx

(@BjornLike2Game) reported

@AlgosCk my auto captcha solver doesnt work anymore, i use amazon AWS and auto captcha. It says captcha got triggered trying to solve it but it doesnt go trough and i have this problem for more then a month now

Ansspvt

(@Ansspvt1) reported

@amazon @awscloud I am having issue with you guys I wanted to resolve

RajeshDash

(@RajeshD17619048) reported

@AWSSupport I have tried reopening the ticket from the Amazon support centre to discuss regarding the issue but there is no response and the ticket is being closed without resolution.
Check Current Status