eToro Outage Map
The map below depicts the most recent cities worldwide where eToro users have reported problems and outages. If you are having an issue with eToro, make sure to submit a report below
Loading map, please wait...
The heatmap above shows where the most recent user-submitted and social media reports are geographically clustered. The density of these reports is depicted by the color scale as shown below.
eToro users affected: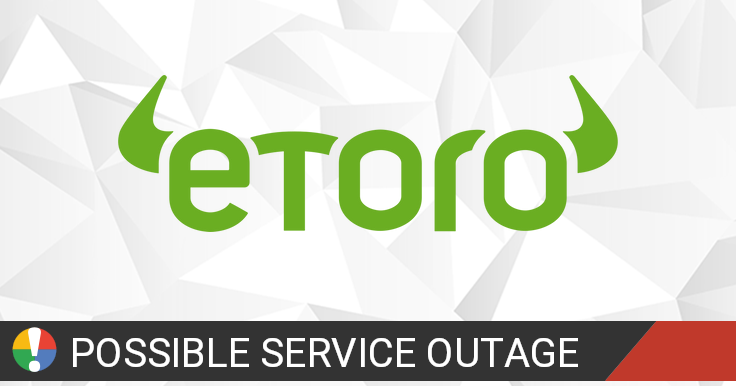 eToro is a social trading and multi-asset brokerage company that focuses on providing financial and copy trading services. eToro offers trading and investing in cryptocurrencies, stocks, ETFs, currencies, indices, commodities and more.
Check Current Status
Most Affected Locations
Outage reports and issues in the past 15 days originated from:
| Location | Reports |
| --- | --- |
| Vienna, Wien | 3 |
| Bogotá, Distrito Capital de Bogotá | 2 |
| Schwäbisch Gmünd, Baden-Württemberg Region | 2 |
| Buenos Aires, CF | 1 |
| Leicester, England | 1 |
| El Prat de Llobregat, Catalunya | 1 |
| Bourgoin-Jallieu, Auvergne-Rhône-Alpes | 1 |
| Barcelona, Catalunya | 1 |
| Herzlake, Lower Saxony | 1 |
| Johannesburg, Gauteng | 1 |
| Sankt Pölten, Niederösterreich | 1 |
| Columbus, OH | 1 |
| Nanterre, Île-de-France | 1 |
| Florence, Toscana | 1 |
| Guatemala City, Departamento de Guatemala | 1 |
| Goussainville, Île-de-France | 1 |
| Frankfurt am Main, Hessen | 1 |
| Barry, Wales | 1 |
| La Ciotat, Provence-Alpes-Côte d'Azur | 1 |
| Poulx, Occitanie | 1 |
| Coslada, Comunidad de Madrid | 1 |
| Lausanne, VD | 1 |
| Sinigo, Trentino-Alto Adige | 1 |
| Borken, NRW | 1 |
| Tarapoto, Región de San Martín | 1 |
| Paris, Île-de-France | 1 |
| Kaunas, Kaunas County | 1 |
| Puerto Montt, X Región | 1 |
| Marseille, Provence-Alpes-Côte d'Azur | 1 |
| Salerno, Campania | 1 |
Community Discussion
Tips? Frustrations? Share them here. Useful comments include a description of the problem, city and postal code.
Beware of "support numbers" or "recovery" accounts that might be posted below. Make sure to report and downvote those comments. Avoid posting your personal information.
eToro Issues Reports
Latest outage, problems and issue reports in social media:
أمين ال ابوزيد

(@abuzaiaa) reported

@eToroService Who is gonna compensate the traders for the technical long & repeated issues?

michal

(@michal30553672) reported

@eToroService Opening markets half an hour late every day, technical problems lasting whole day? does this sound like a good investing platform? A global financial institution responsible to absolutely no one. Imagine your bank stopping you from accessing your money. #scam

Paul Carabine

(@CarabinePaul) reported

@eToroService @eToro S##t service

alejandro fernandez

(@alejandro971124) reported

@eToroService For 8 hours has been down. UNBELIEVABLE on this days...

DJ_INFARED

(@DJ_INFARED) reported

@eToro "Down" right when Bitcoin has a 10k dip perfect for people to buy.. What a coincidence huh?! I will definitely be cancelling my account and tell everyone to stay away from your company!!

simopco

(@simopco) reported

@eToroService Terrible just terrible. Literally out all day here in the UK. What a complete **** show.

Bullish Mindset

(@Mllemaximroy) reported

@eToroService @eToro Shame on you, eToro. We lose money and/or have money somewhere where they're not safe. That's crazy. If it happened once, I'll understand. But this happens almost every day now!!!!!! You're earning over $100M per year and aren't able to have a quality platform???

realtradingguy

(@bencrypto10) reported

@eToroService The worst customer service I've EVER experienced. Down for more than 6 hours!!! No explanations, no ETA, no details, no ******* nothing!!! It's one thing to have "technical problems" but your poor customer service is messing it up completely!!! Absolutely ridiculous! #etoro

Paul Morrison

(@p_a_morrison) reported

@eToroService your service has been a total disgrace today and every one of your customers deserve a fair and honest explanation as to the reason why it has been down for the whole of the trading day. #etorodown

Yuan (Meredith) Zhang

(@Meredit98703624) reported

@Matt24139241 @ryanashlee @eToroService seriously, a lot of ppl reported having trouble to get their funds back, taking forever, zero customer service support etc... ****

أمين ال ابوزيد

(@abuzaiaa) reported

@eToroService Etoro is really make me upset, Unbelievable to wait for long time till responding to my cases. I can't explain how bad this company👎

BesOn

(@BesOn12) reported

@eToroService Worst platform ever. You guys just market manipulators.

LAIN ROSAS

(@rosas_ahuitzol) reported

@business @CityLab eToroService @eToroService ETORO IS A TERRIBLE BROKER , SINCE IT HAS NOT WORKED ALL DAY... ETORO IS LIKE #ROBINDHOOD.

Christian Mandelli

(@mandelli_ch) reported

@eToroService The platform "crashes" as soon as the market moves more than 5% (on a weekly basis). Is fraud, not technical issues nor the aliens. Simply fraud.

Omsara

(@omsaralimited) reported

@eToroService STFU - Down for over 7 hours now. That's not technical difficulties. You've been hacked. TELL THE TRUTH.
Check Current Status