Google Nest Outage Map
The map below depicts the most recent cities worldwide where Google Nest users have reported problems and outages. If you are having an issue with Google Nest, make sure to submit a report below
Loading map, please wait...
The heatmap above shows where the most recent user-submitted and social media reports are geographically clustered. The density of these reports is depicted by the color scale as shown below.
Google Nest users affected: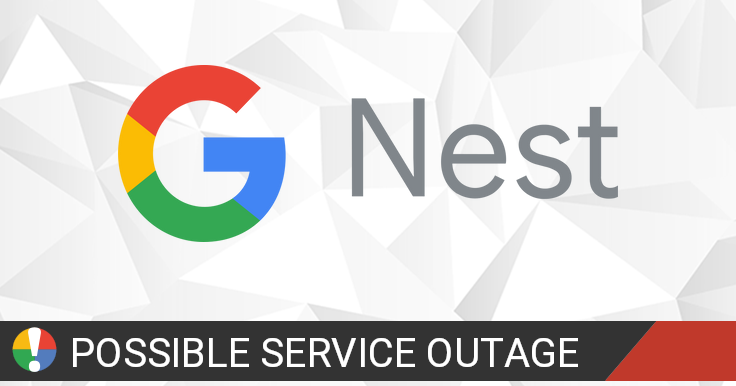 Nest is a brand of Google used to market smart home products including smart speakers, smart displays, streaming devices, thermostats, smoke detectors, routers and security systems including smart doorbells, cameras and smart locks.
Check Current Status
Most Affected Locations
Outage reports and issues in the past 15 days originated from:
| Location | Reports |
| --- | --- |
| London, England | 2 |
| Brisbane, QLD | 1 |
| Senago, Lombardia | 1 |
| San Marcos, TX | 1 |
| Edmonton, AB | 1 |
| West Molesey, England | 1 |
| Reading, England | 1 |
| Nassau, New Providence District | 1 |
| Paracuellos de Jarama, Comunidad de Madrid | 1 |
| Rye, NY | 1 |
| Northbrook, IL | 1 |
| Murfreesboro, TN | 1 |
| Atlanta, GA | 1 |
| Sabadell, Catalunya | 1 |
| Edmonds, WA | 1 |
| Brampton, ON | 1 |
| Mississauga, ON | 1 |
| Charlotte, NC | 1 |
| Sydney, NSW | 1 |
| Tallahassee, FL | 1 |
| Frankfurt am Main, Hessen | 1 |
| North Las Vegas, NV | 1 |
| San Diego, CA | 1 |
| St. Catharines, ON | 1 |
| Osler, SK | 1 |
| Perth, WA | 1 |
| Wakefield, RI | 1 |
| Heroica Matamoros, TAM | 1 |
| Phoenixville, PA | 1 |
| Cumberland, MD | 1 |
Community Discussion
Tips? Frustrations? Share them here. Useful comments include a description of the problem, city and postal code.
Beware of "support numbers" or "recovery" accounts that might be posted below. Make sure to report and downvote those comments. Avoid posting your personal information.
Google Nest Issues Reports
Latest outage, problems and issue reports in social media:
Pedro García

(@pgaralon) reported

@googlenesthelp my Nest thermostat doesn't connect to any wifi network, can you help me please?

Manu Mejías

(@ManuuMejias) reported

@Xiaomi Hey! I'm having trouble linking My home to @googlenest. The bulbs are not connected by the Google application. I tried to reconnect and it is impossible. It must be a massive failure. Help!

𝕄𝕚𝕂𝕖 𝕄𝕔𝔻𝕠𝕟𝕠𝕦𝕘𝕙 🍥

(@MiKeMcDnet) reported

from Pine Island Ridge, Florida

@MPassi23 @googlenesthelp I'm #RT'ing a whole lot of other users who are having our same issue... They seem to treat it as an individual / personal issue. Yeah, NO.

Brian Pomerleau

(@bpomerleau82) reported

@googlenesthelp My Nest Thermostat suddenly stopped connecting to wi fi and cannot find any networks. Please help!

J.R. Ramos

(@jrvmosjr) reported

@googlenesthelp is there an ongoing issue with delayed notifications? This weekend I am getting 5-10 delayed notifications. @charlievanilla

Linda Smith

(@andressarequia) reported

@ganngeli @googlenesthelp Message Best_recovery01 on Instagram, he help me get my hacked account back, he is legit and fast in recovering hacked and supended account

Sarmurai Dacier

(@Phantom_Print) reported

@ManuuMejias @googlenesthelp Hey pal, if they give you a solution, tell me. I have the exact same problem as you with my Mi Home devices and my Google Nest.

danielle

(@danilynntheging) reported

@googlenesthelp Stays clip not available Is there not an option to down load 24 hours worth of clips? You have to do an hour at a time for everything?

South Ave Paper

(@SouthAvePaper) reported

@googlenesthelp Last update Oct 26, 2021. 6.2-22. Nest Learning thermostat error multiple x per day. Rc connection no power. But it restores on its own when time to run AC. Can't access control manually or on app, says no power off-line until restores by itself. Help?! Replace?

André

(@andre_andraos) reported

@googlenesthelp Yes, I'm getting a W5 error code.

Olu

(@olumeday) reported

@googlenesthelp Other Chromecast connect issues, this one with Google TV is the problem child. From trawling the web, this issue comes up frequently with the latter.

Chad, but not "A Chad"

(@PlantBasedChad) reported

Ok @googlenesthelp please tell me why my nest continues to randomly turn from heat to cool in the middle of the night in the winter. I even turned the smart sensor off so it wouldn't try and learn from my adjustments and that didn't help

Katie

(@kandpnick) reported

from Orange Park, Florida

Anyone having issues with @googlenest? Yesterday my devices stopping working unless I manually manipulated the DNS server. No bueno for my work PC where I can't change things. Also, my mesh test fails suddenly. Why the sudden change? @googlenesthelp any ideas?

Brian Pomerleau

(@bpomerleau82) reported

@googlenesthelp Thanks! New Nest Thermostat. No changes to the network. It's having other issues as well. I thought maybe a software update would fix it but it won't connect. Have tried all the recommended steps on Google support website.

Brolin Rosquist

(@RosquistBrolin) reported

@googlenesthelp My nest thermostat is having an issue with connecting to the internet. It states that it cannot find the network. Also, the display takes a while to show up at times.
Check Current Status