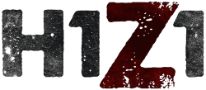 H1Z1 Outage Map
H1Z1 is a survival sandbox massively multiplayer online gamepost-apocalyptic MMO in which you must fight for your live against a world overrun by zombies. Developed by Daybreak Game Company and available for Xbox, Playstation and Windows.
H1Z1 Most Affected Locations
Outage reports and issues in the past 15 days originated from:
| Location | Reports |
| --- | --- |
| Alcalá de Henares, Comunidad de Madrid | 1 |
| Madrid, Comunidad de Madrid | 1 |
| Lima, Provincia de Lima | 1 |
| Santiago, Región Metropolitana | 1 |
| Flint, MI | 1 |
| Lugo, Galicia | 1 |
| Barking, England | 1 |
H1Z1 Comments
Tips? Frustrations? Share them here. Useful comments include a description of the problem, city and postal code.
H1Z1 Issues Reports
Latest outage, problems and issue reports in social media:
ジ BattyFlaps! - What a ******* name that one is eh

(@JaayOnPC) reported

I just want good h1z1 to come back.. if it was me i'd find a way to get ps3 version working online on a test server then try to find a way to update it with some of the "Actual" improvements we've had. (Shotgun fix but slightly more range) Vehicles having only keys not parts etc

Mandy

(@denique_) reported

@grxce_ow the chinese translates to "china number 1" which goes back to h1z1 where people would make fun of chinese players and their accents because they were mad that chinese players played on US servers. their "jokes" placed blame on the chinese org and not IGC. thats why its an issue.

boxen

(@boxen0) reported

haha h1z1 pewpew wtf desync daybreak fix combat update bad nooo why u codrush gg

Delays

(@DelaysUs) reported

@H1Z1 are y'all going to fix servers so some can get on or just done?

Jake

(@JaakeMullen) reported

@H1Z1 what is the G35 Error? cant load the game.

Jake

(@JaakeMullen) reported

@H1Z1 what is thee G35 error on pc? cant even load the game

Gary Condra

(@Battleclad) reported

@DaybreakHelp so I was going to file a ticket as I had too many artifacts to select from for the anniversary gift and timed out, getting a random thing I wasn't going to pick. But when I went to the site the sign in link for the support pages is a broken link. So two issues there

brandon

(@bravndn) reported

@lowkeydbjosh I just crashed and got an abandon penalty in diamond lmfao nice you really did fix it man! Pathetic excuse for a dev team and it's even more pathetic that you get payed to do such a good job at driving this game into the dirt H1Z1 style

KPOPisdogSHT

(@Y0oDAD) reported

@DaybreakGames am i able to send you a DM? Need some support relating to my acc, does not let me login to send ticket. @planetside2 @DaybreakHelp

Death_Note_Itasha

(@PaulTakita) reported

@DaybreakGames @DaybreakHelp how many months and customer service reps do I have to fight to get my EQ account back? It was hacked years ago. I'm the original owner and want it back. I WONT GIVE UP!

HyDrO_spankysick ➐

(@HyDrO_spankysic) reported

@H1Z1 Shut the servers down.

Valentin

(@valentindiscord) reported

@Ben59102786 @H1Z1 Finally a fan in the comment section, if they Update it soon that player count issue WILL be gone. Respect, goodbye.

Cole

(@imCQK) reported

@RavenSoftware @Activision @CallofDuty you guys are doing the same thing that H1Z1 did. Fix the ******* game before it dies

Mike Woodland

(@Wood1047) reported

@DaybreakHelp i could use some help with a DB cash purchase issue, I have submitted a ticket, anything you can do to help?

Requenz

(@requenzxd) reported

@H1Z1CANREVIVE @enadglobal7 I don't understand, can I download H1Z1 back in PS3 but only play it singleplayer/locally. When I press install on that site an error on steam comes up saying: "steam failed to install connection timed out". Am I doing something wrong?