IG Outage Map
The map below depicts the most recent cities worldwide where IG users have reported problems and outages. If you are having an issue with IG, make sure to submit a report below
Loading map, please wait...
The heatmap above shows where the most recent user-submitted and social media reports are geographically clustered. The density of these reports is depicted by the color scale as shown below.
IG users affected: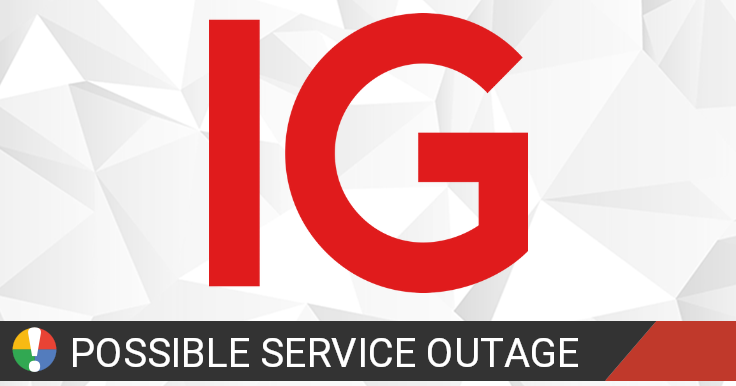 IG is the largest Forex broker and CFD dealer in the world. The company offers access globally to a comprehensive product line that includes forex, stock indices, individual equities, stock sectors, commodities, cryptocurrencies, bonds, and interest rates on a variety of professional-grade web-based and mobile trading platforms.
Check Current Status
Most Affected Locations
Outage reports and issues in the past 15 days originated from:
| Location | Reports |
| --- | --- |
| St Albans, England | 1 |
| Sydney, NSW | 1 |
| Croydon, England | 1 |
| Indian Trail, NC | 1 |
| Valencia, Comunitat Valenciana | 1 |
| Perth, WA | 1 |
| Melbourne, VIC | 1 |
| Osaka, Ōsaka-fu | 1 |
| Bridgewater, NJ | 1 |
| Cheongju-si, Chungcheongbuk-do | 1 |
| Weihai, Shandong Sheng | 1 |
| Mauá, SP | 1 |
| Berlin, Land Berlin | 1 |
| Milan, Lombardia | 1 |
Community Discussion
Tips? Frustrations? Share them here. Useful comments include a description of the problem, city and postal code.
Beware of "support numbers" or "recovery" accounts that might be posted below. Make sure to report and downvote those comments. Avoid posting your personal information.
IG Issues Reports
Latest outage, problems and issue reports in social media:
Steeve S

(@steeve_inv) reported

@IGClientHelp @IGcom Why are major markets shown as closed? $SPX $OIL $GOLD $GBPEUR Anyone else having issues?

Space Simian

(@DeedSpaceSimian) reported

@IGClientHelp @Toro_AIM Low return for you, high return for us the traders. You are just removing all the stocks that go up and keeping all the stocks that go down.

DCAEP DCAEP

(@DCAEP) reported

@Trading212 @eToro @IGClientHelp Of the 3 companies, IG is the only one that DOES *NOT* keep going "Down" Etoro and Trading212 conversely are NOT reliable at all and many many times you will have trouble logging in and will hang for ever and ever. #ETORO #TRADING212 #IG

Amanda Zhang

(@AmandaZ35514466) reported

@IGcom Hello ! I am Amanda from China. Your trademark rejected by CNIPA. It must file review within 15 days since you got the rejected notification, . We can help to overcome it . No.1556071- IG

Gary Newman

(@GaryNTrader) reported

@Sierra117_Jon @ChrisyShields @IGcom Sounds like they're reducing the stocks that they let people trade via CFDs and SBs on a permanent basis though, rather than this just being something temporary. Maybe they're worried about the level of long risk if the markets were to crash

I Know Nooothing

(@IknowNooothing) reported

@IGClientHelp please can I raise a formal complaint. It appears the changes to your spreadbetting were leaked at the weekend and are being weaponised by Shareprophets who have boasted about insider information previously. I believe this is serious to warrant FCA notification

Peter Molloy

(@PeterOMolloy) reported

@IGClientHelp @steeve_inv Terrible company closing positions come Friday with no notice

Larus

(@MrLarus) reported

@IGClientHelp @Jessestone1st If only your client web and phone service was as prompt as your social media service

ITWT

(@ITWT10) reported

@CarlosLpzC @IGcom But to answer your question, I think stocks in the listed PDF will be completely closed on 26th March. And, said stocks will see a margin increase by 100% from 3pm Friday. Just hope we see some positive movement with #EUA before that time! Reach out to their support though!

David Rowland

(@david_rowland) reported

@IGClientHelp hi, unable to reach via chat/phone. Need help transferring my US account over to IG. Website says call existing broker but they say you should instigate. Can I get better guidance?

stocksandsharesinvestingclub

(@stocksandshare3) reported

IG error message "Max consideration in excess of maximum allowed on your account" when trying to place trade. Missing opportunities due to this. No info as too what max consideration is and nobody answering telephone. Know a better provider I can transfer ISA too? @IGClientHelp

Gu

(@GuiThebault) reported

@IGClientHelp Thanks, there is no problem of having payed in another stock and share ISA elsewhere in the same tax year? It's empty now

Jonathan Scott

(@_scottjonnie) reported

@milbshake @IGClientHelp Agreed, this, combined with the constant outages and poor customer support is why I'm changing to a competitor. I think @IGcom have become complacent.

Tradethetrend

(@Tradethetrendco) reported

@IGClientHelp why is my dax 1 min chart been removed in the middle with no candle sticks being shown and missing about 4hrs of data? Yet more technical problems??

Fletch

(@fletch000007) reported

@IGClientHelp @Toro_AIM Also "offer a low return"? So you're saying as you don't make huge profits on these, only some profits, you're just not bothered about continuing the service for people with existing positions?
Check Current Status