New World Outage Map
The map below depicts the most recent cities worldwide where New World users have reported problems and outages. If you are having an issue with New World, make sure to submit a report below
Loading map, please wait...
The heatmap above shows where the most recent user-submitted and social media reports are geographically clustered. The density of these reports is depicted by the color scale as shown below.
New World users affected: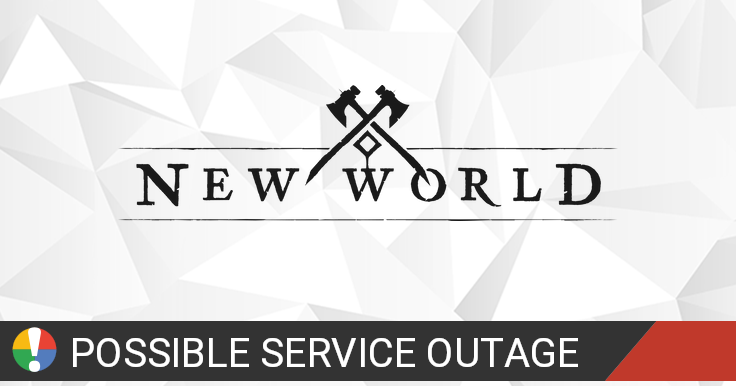 New World is a massively multiplayer online role-playing game (MMORPG) by Amazon Games. Set in the mid-seventeenth century, players colonize a fictional land modeled after the Americas.
Check Current Status
Most Affected Locations
Outage reports and issues in the past 15 days originated from:
| Location | Reports |
| --- | --- |
| Grimsby, England | 2 |
| Frankfurt am Main, Hessen | 2 |
| Melbourne, VIC | 2 |
| Berlin, Land Berlin | 2 |
| Munich, Bavaria | 1 |
| Schlotheim, Thuringia | 1 |
| Södertälje, Stockholm | 1 |
| Meitingen, Bavaria | 1 |
| Langenhagen, Lower Saxony | 1 |
| Bremen, Bremen | 1 |
| Dortmund, NRW | 1 |
| Recklinghausen, NRW | 1 |
| Caen, Normandie | 1 |
| Illkirch-Graffenstaden, ACAL | 1 |
| Tilburg, nb | 1 |
| Ludwigsburg, Baden-Württemberg Region | 1 |
| Limoges, Nouvelle-Aquitaine | 1 |
| Butzbach, Hessen | 1 |
| Sindelfingen, Baden-Württemberg Region | 1 |
| Sanya, Hainan Sheng | 1 |
| Larrey, Bourgogne-Franche-Comté | 1 |
| Pohlheim, Hessen | 1 |
| Jundiaí, SP | 1 |
| Toulon, Provence-Alpes-Côte d'Azur | 1 |
| Köln, NRW | 1 |
| Wunstorf, Lower Saxony | 1 |
| Leoben, Steiermark | 1 |
| Seysses, Occitanie | 1 |
| Könnern, Saxony-Anhalt | 1 |
| New Haven, CT | 1 |
Community Discussion
Tips? Frustrations? Share them here. Useful comments include a description of the problem, city and postal code.
Beware of "support numbers" or "recovery" accounts that might be posted below. Make sure to report and downvote those comments. Avoid posting your personal information.
New World Issues Reports
Latest outage, problems and issue reports in social media:
Alexander Lundgren Kostakis

(@alexanderluko) reported

@playnewworld @dealer_monkey @playnewworld How is it possible to sit in queue, get booted from queue with some diffuse error message, go straight back to queue and lose your spot? How can you not have any kind of grace period whatsoever?

Backup_Benny

(@RealBackupBenny) reported

@geoffkeighley @playnewworld The reason so many people are watching on twitch is because no one can login to the servers in the EU

JLL

(@rognposen) reported

@LeviJermaine @playnewworld Same problem! Very irritating😡

Mike White

(@mikesecondslate) reported

@ApexAndy_ @playnewworld if you get an error just press okay and wait. Don't close the game, don't mess with your character.

Bruce Banter

(@liviliam) reported

@geestoastie @Ruggstickles @playnewworld was 1330 in queue, got down to 800 and was queue kicked. New position 1700, got down to 1200 and queue kicked again, new position 2030. Got down to 500 and queue kicked again, new position 2627. Worst Login server ever...

MrnoxbonaNL

(@MrNoxBonaNL) reported

@playnewworld as if thats going to fix it..

nimruth

(@NNimruth) reported

can you fix this "too many requests" error on queue? @playnewworld i started at 3k then got this error when there are 97 left and it literally hurts.

Bünyamin

(@Bnyamin89345570) reported

@playnewworld I waited in the queue for 2 hours, and then i got too many request error. :(

Great Scott

(@scottwi06185450) reported

@playnewworld Last 4 hours I've been in a relatively short queue for a starting area. The problem is that it keeps giving me errors and I start again further back in the queue. Started at 20..then 42..47...72...84 now.

FeralForlorn

(@FelixZander1996) reported

@playnewworld your game just kicked me out after hours of queueing and finally getting in on a "low population server" how can u not even have security in place to prevent random errors and dc's? what kind of amateur systems do u got running over there that cant handle basics?

t4LLy

(@t4LLy92) reported

@playnewworld add some servers!!! Came home from work, logged into eu server, cue 1400... Then error message, re cued - >2000..... Then another error, now at 2300. What is this??? The biggest company can't put out enough server. You guys knew your game is hyped. 10 server for eu

Kasper

(@kasbroo) reported

@playnewworld whenever i get close to 0 in the queue, i get kicked out with the «toomanyrequestexception» error.. but from what i hear it's buttery smooth once you're in-game. Any news on the queuing issues?

Christopher

(@chrisabides) reported

@PutASkull0nIt @playnewworld That's likely; I'm not an evangelist with PC parts brands broadly, but I'm always EVGA and have never had any problems. Great tip on the capping though, I'll do that. Now just to decide what to pair with this hatchet.

Dr. Quickfinger

(@DrQuickfinger) reported

@playnewworld Hi, can we have New Servers on EU Central. I really want to Play but your Login Que is Nuts. each server has more tahn 2k+ Player in Login Que and it Disconnectet me 2 times today while Waiting im Sad!

Thomas K.

(@iGreeek) reported

@AddeMoberg @schmandvoll @playnewworld If you get that error again , press OK and wait a few minutes. It will automatically put you back in queue. Don't do anything other than pressing OK.
Check Current Status