Office 365 Outage Map
The map below depicts the most recent cities worldwide where Office 365 users have reported problems and outages. If you are having an issue with Office 365, make sure to submit a report below
Loading map, please wait...
The heatmap above shows where the most recent user-submitted and social media reports are geographically clustered. The density of these reports is depicted by the color scale as shown below.
Office 365 users affected: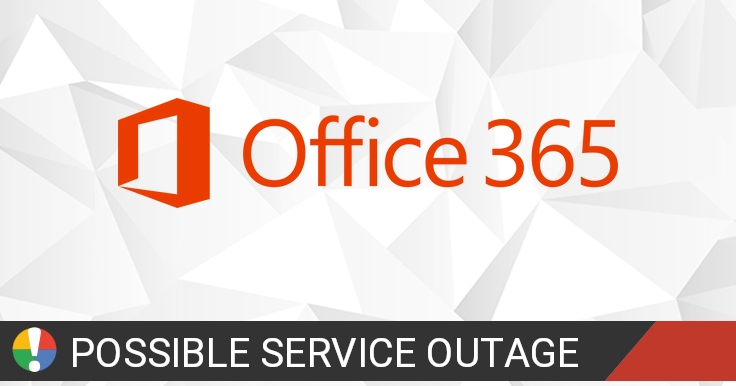 Office 365 is an online productivity suite that is developed by Microsoft. Office 365 contains online and offline versions of Microsoft Office, Skype and Onedrive, as well as online versions of Sharepoint, Exchange and Project.
Check Current Status
Most Affected Locations
Outage reports and issues in the past 15 days originated from:
| Location | Reports |
| --- | --- |
| Bogotá, Distrito Capital de Bogotá | 4 |
| São Paulo, SP | 4 |
| London, England | 4 |
| Adelaide, SA | 3 |
| Madrid, Comunidad de Madrid | 3 |
| Santiago, Región Metropolitana | 3 |
| Paris, Île-de-France | 3 |
| Indianapolis, IN | 2 |
| Frankfurt am Main, Hessen | 2 |
| Guadalajara, JAL | 2 |
| Los Angeles, CA | 2 |
| Birmingham, England | 2 |
| Cali, Departamento del Valle del Cauca | 2 |
| Singapore, Central Singapore Community Development Council | 2 |
| Delhi, NCT | 2 |
| Mississauga, ON | 2 |
| Tours, Centre-Val de Loire | 2 |
| San Jose, CA | 2 |
| Salamanca, Castilla y León | 1 |
| York, ON | 1 |
| Minneapolis, MN | 1 |
| Concord, NH | 1 |
| Hackensack, NJ | 1 |
| Upton, England | 1 |
| Rijeka, Primorsko-Goranska Županija | 1 |
| Sheffield, England | 1 |
| Guer, Bretagne | 1 |
| Newmarket, England | 1 |
| Osasco, SP | 1 |
| Dayton, OH | 1 |
Community Discussion
Tips? Frustrations? Share them here. Useful comments include a description of the problem, city and postal code.
Beware of "support numbers" or "recovery" accounts that might be posted below. Make sure to report and downvote those comments. Avoid posting your personal information.
Office 365 Issues Reports
Latest outage, problems and issue reports in social media:
fritz

(@thomasfritz_) reported

Hey @Office365 there's no reason for me to need a security code texted to me every time I try to sign in. Just relax buddy. @BillGates fix this/Venmo me please

Francois Heinderyckx

(@FHeinderyckx) reported

@olivier_klein When I'm really desperate with a Word document, I open it with Apple's Pages, fix it, then export it back in Word format. Requires extreme caution given you're talking about a large and complex document. Consider also upgrading to Word from Office365.

parry

(@parry41611940) reported

@Office 365. authenticator problems they cant fix after 16 days . hopeless . no customer care

The Saint

(@george98198) reported

@Nermbed Start menu>settings>apps select MS Office365>click on modify select online repair It will re install the whole Office, you need a good internet connection as it downloads around 3.5GB and it may ask you for the login details after the repair

Johnny Farrow

(@Johnnyboythrash) reported

So should the calendar on Outlook on @Office365 not show work hours anymore? Is this an error or am I now destined for people to try and book meetings with me whenever they want. Is this just wfh now?

Don Gollahon

(@DGollahon) reported

@MSFT365Status I am currently unable to access Office 365 via browser. No Outlook or anything. Is there another outage? Lexington, KY.

Jenny Warren 💙

(@sopranobunny) reported

@Christabelius @MichaelRosenYes If your child has a school login to Office 365 they can use it. The device doesn't make a difference. Downloading the app itself is free.

Dimitri Bouniol

(@dimitribouniol) reported

@neilsardesai Mostly an issue with Office365 accounts, since the email domain doesn't match the SSO domain, so no suggestions are shown 😔

Brandon🆗️

(@brandon_dubski) reported

Office 365 having issues so if you're emailing your wifes boyfriend about vacation spots he can take her to you might have a bad time.

Melissa Blue, feeling like Dakota Gray

(@mel_thegreat) reported

@Dragon_Age_Fans I started to have issues with it and that's the only reason I switched to Office 365. I just wanted consistency.

Pharma Darren (He/Him)

(@Pharmacistdaz) reported

@Clairewynn @pabakz I have office 365 logins for multiple orgs and often have to clear the cache to get the right login to work. Luckily in Chrome there's a add-in that I can single click and clear

MetroNet Fiber

(@metronetfiber) reported

@kevinprow We have been made aware that Teams and the Office 365 site are having issues. We are currently waiting for a status update from at this time. We apologize for the inconvenience.

Brian S.

(@maeglin73) reported

@citybeach Your IT people might want to check on their broken config when forwarding things like DMARC reports from Office365 to Amazon. It's making them look like spoofed emails.

Gatumbî

(@gaichuhie) reported

Help me understand something! I can login to the New Exchange Admin Center but not to the Classic Admin Center using the same damn credentials!! @Office365 I honestly hate your single sign-on ish! It almost never works.

Walter Bobrowski

(@WalterBobrowski) reported

Problem solved by deleting the unused and useless Microsoft Office 365 app. Honestly, imagine running a company like @Microsoft where your vast array of apps don't actually talk to each other.
Check Current Status