Paramount+ Outage Map
The map below depicts the most recent cities worldwide where Paramount+ users have reported problems and outages. If you are having an issue with Paramount+, make sure to submit a report below
Loading map, please wait...
The heatmap above shows where the most recent user-submitted and social media reports are geographically clustered. The density of these reports is depicted by the color scale as shown below.
Paramount+ users affected: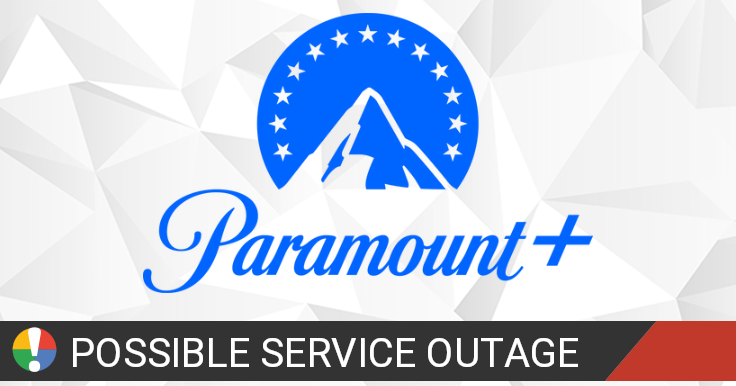 Paramount+ is an American subscription video on-demand over-the-top streaming service owned and operated by CBS Interactive, a subsidiary of ViacomCBS. Paramount+ delivers films, dramas, news, cartoons and comedies.
Check Current Status
Most Affected Locations
Outage reports and issues in the past 15 days originated from:
| Location | Reports |
| --- | --- |
| New Castle, PA | 11 |
| London, England | 10 |
| Hamburg, HH | 10 |
| Bogotá, Distrito Capital de Bogotá | 9 |
| São Paulo, SP | 8 |
| Frankfurt am Main, Hessen | 7 |
| Berlin, Land Berlin | 7 |
| Rome, Lazio | 7 |
| Los Angeles, CA | 5 |
| Munich, Bavaria | 4 |
| Mexico City, CDMX | 4 |
| Santiago, Región Metropolitana | 4 |
| Fortaleza, CE | 4 |
| Melbourne, VIC | 3 |
| Rio de Janeiro, RJ | 3 |
| Montevideo, Departamento de Montevideo | 3 |
| Krefeld, NRW | 3 |
| Campinas, SP | 3 |
| Edinburgh, Scotland | 3 |
| Adelaide, SA | 2 |
| Zapopan, JAL | 2 |
| Brisbane, QLD | 2 |
| Milan, Lombardia | 2 |
| Mexicali, BCN | 2 |
| Nürnberg, Bavaria | 2 |
| Lauda-Königshofen, Baden-Württemberg Region | 2 |
| Tipton, England | 2 |
| Veracruz, VER | 2 |
| Schmelz, Saarland | 2 |
| Hannover, Lower Saxony | 2 |
Community Discussion
Tips? Frustrations? Share them here. Useful comments include a description of the problem, city and postal code.
Beware of "support numbers" or "recovery" accounts that might be posted below. Make sure to report and downvote those comments. Avoid posting your personal information.
Paramount+ Issues Reports
Latest outage, problems and issue reports in social media:
.

(@slumpbuster77) reported

@paramountplus why do I keep getting error signals when I try to watch 1883? I've rebooted my tv and internet twice and I got the first commercial and then error codes.

AnonSnark

(@AnonSnark) reported

@robertnorton_ @paramountplus @kingstown i have two main machines here and a bunch at the office. what i do is create stuff on the main one and send it to others for the rendering. my biggest issue nowadays is that the computers dont have enough ins and outs and i spend forever moving files

Venom_Hackers☠️

(@Daybellesse) reported

@sttng7 @askparamount Kindy send me direct message to help recover your account

Arthur

(@sttng7) reported

@askparamount I can't login currently and the forgot password option has yet to send the email with a reset link. Having some trouble on your end?

🇵🇷Princess Butterslut ✡️

(@SashiStaysHome) reported

You should give everyone a few free months for being so god awful #ParamountPlus @paramountplus

ReviewsAndBooze 🍻🍿🎬

(@ReviewsAndBooze) reported

@paramountplus your app is dreadful. No , it's not my internet or my tech skills. It's you , not me. Please for the love of everything FIX YOURSELF. Your live stream of tv is like trying to load pics on dial up internet

Mabe Tiller

(@MabeTiller) reported

@YandR_CBS @CBS @paramountplus Better yet would be Gloria there to take on Phyllis and get the GP. Why stir up trouble Lauren has already made up to Chloe over?

Brothers Monroe Media

(@brothers_monroe) reported

@paramountplus Your search feature doesn't even work, WHY isn't south park anywhere near like the first things I see? #HBOMax at least has their UI down like it isn't 2013

Frank Hamilton

(@fwjh1971) reported

@paramountplus why do I keep getting 3205 error code? The customer service is horrendous. One of the worst apps.

Stacks 🤖

(@iRepCleveland) reported

@askparamount Everyone I know there's doesn't work on Samsung TVs. Fix the problem this is BS

SteelBucks.com

(@steelsturg92) reported

@paramountplus a little help plz

Bettina Pullum

(@itsmebettina) reported

@paramountplus can't sign in to phone, tablet, iPad or LG TV. It only lets you subscribe over and over. Two subscribers in one household but no one can watch. #ScamAlert

RGF2aWQK

(@TheTechDjinn) reported

@paramountplus Your contact support form won't submit (tried multiple browsers) and your chat help AI railroads you and won't let you just submit a question / feedback. Please fix and provide away for me to submit feedback!

Hufflepuff

(@lavendersparks8) reported

And its funny that the ads play with no issue on @paramountplus but none of the TV shows. After this cycle is over I am never gonna fool with this again. Way too irritating

moon!

(@analogcaptive) reported

It's so incredible that the @paramountplus app loses the ability to cast every Sunday without fail. I can watch Star Trek alllllll day during the week no problem but #nfl games seem to be messed up.
Check Current Status