Roku Outage Map
The map below depicts the most recent cities worldwide where Roku users have reported problems and outages. If you are having an issue with Roku, make sure to submit a report below
Loading map, please wait...
The heatmap above shows where the most recent user-submitted and social media reports are geographically clustered. The density of these reports is depicted by the color scale as shown below.
Roku users affected: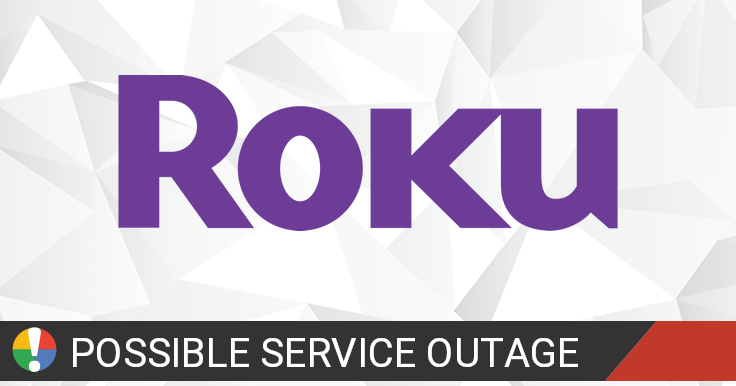 Roku players are a series of digital video & media players manufactured by Roku, Inc. Roku partners provide over-the-top content in the form of channels used to stream TV and movies.
Check Current Status
Most Affected Locations
Outage reports and issues in the past 15 days originated from:
| Location | Reports |
| --- | --- |
| Miami, FL | 3 |
| São Paulo, SP | 3 |
| Chicago, IL | 2 |
| Rochester, NY | 2 |
| Atlanta, GA | 2 |
| Houston, TX | 2 |
| Los Angeles, CA | 2 |
| Lubbock, TX | 2 |
| Grants Pass, OR | 2 |
| Fort Worth, TX | 2 |
| Grapevine, TX | 1 |
| Coshocton, OH | 1 |
| Lake Wales, FL | 1 |
| Batavia, IL | 1 |
| Springfield, OH | 1 |
| Tucson, AZ | 1 |
| Guadalajara, JAL | 1 |
| Garner, NC | 1 |
| Greenville, OH | 1 |
| Tampa, FL | 1 |
| Lansing, MI | 1 |
| Stralsund, Mecklenburg-Western Pomerania | 1 |
| Columbia, MO | 1 |
| Willits, CA | 1 |
| Southport, NC | 1 |
| Washington, D.C., DC | 1 |
| West Palm Beach, FL | 1 |
| Charlotte, NC | 1 |
| Philadelphia, PA | 1 |
| Waynesville, NC | 1 |
Community Discussion
Tips? Frustrations? Share them here. Useful comments include a description of the problem, city and postal code.
Beware of "support numbers" or "recovery" accounts that might be posted below. Make sure to report and downvote those comments. Avoid posting your personal information.
Roku Issues Reports
Latest outage, problems and issue reports in social media:
Blue Fox

(@FoxisBlue) reported

@CateFox I had a firestick - they're not bad. When it stopped working recently I went with Roku though, cheaper for the same quality.

Alice Leigh

(@alicel44) reported

@4oaktrees @AuntNYC Curious why you won't be able to get an app? I don't have a TV so getting the Roku device won't work. But it is available on some non-traditional TV. There are stations and information listed on their website and more will be added.

Craig Bursky

(@Craigbear320) reported

@askparamount i have a roku but it won"t let me activate it. everytime i enter a code it tells me there's an error

Peter

(@Peter48003276) reported

@Roku Hi @Roku can you please reply to the issues people are having with their rokus freezing and slowing down all the time?

Gavin Robbie

(@ace_mcgraw) reported

Question - are @NOW Broadband routers rubbish, or are @Roku Sticks rubbish? Despite being no more than 3m apart, I can only get flaky "poor" wifi connection between the two. All other devices seem to work fine.

RobbyNYC

(@DaManFromNYC) reported

@netflix i cannot connect to Netflix on roku or fire stick. I was told to go netflix/com for help..I was offered $1 charge (refundable) for help ..it wanted email and CREDIT CARD wtf?

Justin Knight

(@JustinKnight03) reported

@TMKSESPN the @YESNetwork app is one of the worst apps I've ever used. Doesn't work on the fire stick and now doesn't work on Roku. Gonna have to miss watching you guys because of it now

James M

(@GreenHero123) reported

@Netflix you need to fix your app on roku i've been kicked off 3 times and its been giving me sound issues on a 4k device

Sean P. Aune

(@seanpaune) reported

@BritBox_US app is auto closing every time I try to open it on my Roku Ultra. Never seen this issue before. Are you having issues?

Danny Thomas

(@dannythewineguy) reported

@YouTubeTV @Google ive noticed for the past couple months youtube tv is constantly buffering. I have 2 roku devices, different models, happening on both. Ive followed all trouble shooting tips and its still happening.

james_98188

(@james_98188) reported

@GqpSlayer @williamlegate Like having to remember how to get my roku device to reconnect with my wireless router to get Netflix to work on my ancient television again!

Physics Geek

(@physicsgeek) reported

@alexthechick @cigarsandlegs Have you tried adding a Roku to the TV? Defeats the purpose of a smart set, but it should work.

Craig Bursky

(@Craigbear320) reported

@RokuSupport having issues paring my roku with paramoumt plus,

Jonny D Thompson

(@JonnyDsThoughts) reported

ok @Roku, 3 things. 1. loved your work as the Avatar. a whole volcano, dope! 2. put a beeping thingy in the remotes so we can use the app on our phones to find the damn remote when we lose it! 3. a lock button, so when you bump the remote or sit on it it doesnt mess things up. yw

Adam Lawson

(@cigarsandlegs) reported

@alexthechick @physicsgeek The one thing about the multiple devices is that if there's some new service -- or some new version of a service -- that doesn't work with the smart TV, a new roku or something is way cheaper than a TV (unless you have a small TV).
Check Current Status