XM Outage Map
The map below depicts the most recent cities worldwide where XM users have reported problems and outages. If you are having an issue with XM, make sure to submit a report below
Loading map, please wait...
The heatmap above shows where the most recent user-submitted and social media reports are geographically clustered. The density of these reports is depicted by the color scale as shown below.
XM users affected: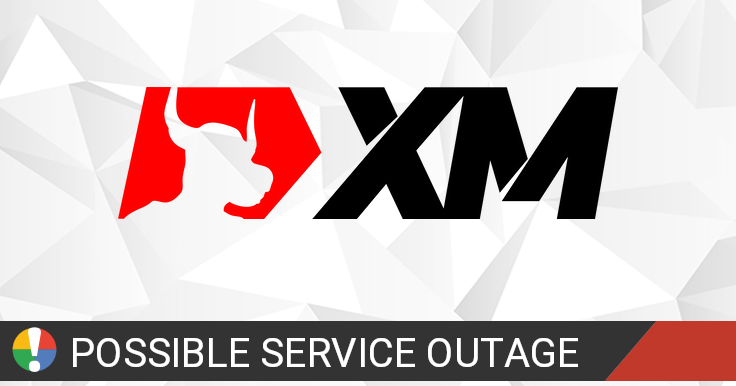 XM.com is an innovative online broker with state-of-the-art electronic platforms for trading forex and Contracts for Difference (CFD) on precious metals, stocks, indices and energy.
Check Current Status
Most Affected Locations
Outage reports and issues in the past 15 days originated from:
| Location | Reports |
| --- | --- |
| Lima, Provincia de Lima | 2 |
| Birmingham, England | 1 |
| Bogotá, Distrito Capital de Bogotá | 1 |
| Tuxtla, CHP | 1 |
| Enfield Town, England | 1 |
| Santa Rosa de Copán, Departamento de Copán | 1 |
Community Discussion
Tips? Frustrations? Share them here. Useful comments include a description of the problem, city and postal code.
Beware of "support numbers" or "recovery" accounts that might be posted below. Make sure to report and downvote those comments. Avoid posting your personal information.
XM Issues Reports
Latest outage, problems and issue reports in social media:
PeeKay

(@Kevinpmlote) reported

@XM_COM You don't want to pay me the money I withdrew on the 1st of November 2022, I'm going to expose you and your support department that failed to help me in any way. Today is the 09th of December I'm still waiting for my R8000 money

PeeKay

(@Kevinpmlote) reported

@XM_COM I want my money I withdrew on the 1st of November 2022, your support department keeps asking me for documents that I sent more 6 times to them, what must I do now to get my money?

skyrexa

(@skyrexa) reported

@XM_COM hello, whoever saw this, I apologize in advance, I beg for your help, my parents are in financial trouble, so they can't pay the tuition fee of 100$, it's a very large fee, please help us If I have money, I will replace it, Thank you this is my account number 200201004557536

assad

(@assad60513789) reported

@XM_COM We are very worried we need help Does anyone have humanity left My mom has cancer can anyone help My mother is not well please help me 😭Instead of helping me, you guys take my life, I'm very upset please help me I am blind please help me

Hitonzo

(@hitonzo) reported

@XM_COM Anyone here with some spare crypto?. I really need help if u have some change pls send 2 BTC address: 18geDqn6mLsAbNMMdt4Cc2bLxSukuyFc1y Jst have nothing 2 go now and will be evictd from my home anytym soon and cant use my real face as I am already in huge shame and depression

PeeKay

(@Kevinpmlote) reported

@XM_COM You don't want to pay me the money I withdrew on the 1st of November 2022, I'm going to expose you and your support department that failed to help me in any way. Today is the 09th of December I'm still waiting for my R8000 money

Jaron Lucero

(@JaronLucero) reported

@DaxMorse @rubabdilawer @XM_COM This is wildddd wtf

assad

(@assad60513789) reported

@XM_COM We are very worried we need help Does anyone have humanity left My mom has cancer can anyone help My mother is not well please help me 😭Instead of helping me, you guys take my life, I'm very upset please help me

GingerBreadSketchy

(@SketchyBread) reported

@XM_COM Bad broker

assad

(@assad60513789) reported

@XM_COM We are very worried we need help Does anyone have humanity left My mom has cancer can anyone help My mother is not well please help me 😭Instead of helping me, you guys take my life, I'm very upset

FxGecko

(@FxGecko_Global) reported

FxGecko data shows that @XM_COM currently has 95 customer complaints, of which 36 complaints have been answered and 7 complaints have been resolved. FxGecko reminds you to pay attention to the quality of service and customer reputation of this broker. #forex #trading #investing

Joseph Sphiwe

(@JosephSphiwe7) reported

@XM_COM Can you help me with trading please i know nothing about it but I'm interested into it

Mojara

(@Monyai18Monyai) reported

@XM_COM Few days for peace/Kgotso but other think that they r the only one who lost, we all lost terrible. #askme

PeeKay

(@Kevinpmlote) reported

@XM_COM You don't want to pay me the money I withdrew on the 1st of November 2022, I'm going to expose you and your support department that failed to help me in any way. You scammed me my R8000 withdrawal

assad

(@assad60513789) reported

@XM_COM We are very worried we need help Does anyone have humanity left My mom has cancer can anyone help My mother is not well please help me 😭Instead of helping me, you guys take my life, I'm very upset
Check Current Status