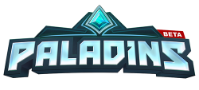 Is Paladins down?
No problems detected
If you are having issues, please submit a report below.
Paladins: Champions of the Realm is a free-to-play multiplayer Hero shooter video game released on September 16, 2016 as an early access product by Hi-Rez Studios.
Report a Problem
Problems in the last 24 hours
The graph below depicts the number of Paladins reports received over the last 24 hours by time of day. When the number of reports exceeds the baseline, represented by the red line, an outage is determined.
At the moment, we haven't detected any problems at Paladins. Are you experiencing issues or an outage? Leave a message in the comments section!
Most Reported Problems
The following are the most recent problems reported by Paladins users through our website.
Sign in

Matchmaking

Game Crash

Online Play
Live Outage Map
The most recent Paladins outage reports came from the following cities::
| | | |
| --- | --- | --- |
| Recanati | Sign in | |
| Epalinges | Sign in | |
| Caen | Sign in | |
| Seattle | Sign in | |
| Beijing | Sign in | |
| Balgonie | Online Play | |
Full Outage Map
Community Discussion
Tips? Frustrations? Share them here. Useful comments include a description of the problem, city and postal code.
Paladins Issues Reports
Latest outage, problems and issue reports in social media:
w

(@W_Homosapien) reported

@TonyArtZ4 I think its unfair but there's not much Paladins can/is going to do besides like rework Kasumi completely, which they wont do. I dont have a huge problem with it as long as they keep nerfing it

afriKEN

(@ken_afri) reported

@dz4kt @Icebish1 @lvladen im perfectle capable of accepting my spec is really good, unlike all the mouthbreather ret paladins that act like they are always awful and deserve to be beyond broken as a form of reparations.

🌐Brayden🌐

(@TheMontyR6) reported

@PaladinsGame Please fix the champion bug. I purchased the "PALADINS Champion Pack Unlock" years ago and it bugs and locks some of the champions.

Dateless Manchild 🌟 🌟 🌟

(@temjin9991) reported

@MaxCole21 @Wowhead Hah, my warr could just ROFL STOMP paladins no problem, it's losers like you that could not handle it that began this **** show

Shambamtymam

(@Grandwarlord) reported

If judge dispel was so broken before changes to paladins but not enough for people to tweet about it I don't see why now people are now in tears about it. Boohoo . Pallies are in a good spot but not broken after nerfs.

Chris

(@leekatv) reported

@lvladen @BorngoodW Fixed an issue that caused Avenging Wrath's 75% PvP multiplier to not function for Retribution Paladins. lol.

Roseanna Pendlebury

(@chloroform_tea) reported

The problem is, I've not read a tonne of books that capture this feeling, and it's the one I chase every time I'm tired or sad or stressed. More books need to do paladins right.

perm

(@PermRag) reported

@PaladinsGame fix ur matchmaking I shouldn't be 1st pick d3 against 2 GM's on their team lmfao

Paragon | Myran

(@MyranSSB) reported

Honestly idc that rets are broken atm. Just disable boost for paladins so less people play them like that.

ipablo

(@pabloverzachi) reported

@BlizzardCSEU_EN How long until u fix this clown fiesta you turned arena into? Expect subs to drop (execpt retri paladins tho)

Tara

(@Annatt01) reported

*** non-spelling me as the Paladin who broke beta and made you say paladins were broken when shamans and druid existed alongside from the beginning @Blizzard_Ent

Infernion

(@Infernionwow) reported

@Thdlock It's at least a bit comforting knowing this is a problem in PvE too, maybe we'll see some changes then.. I've never seen one class take over the ladder THIS hard with zero effort, not even peak assa rogue pre-nerf. I legit face actual 1300 ret paladins at 3.1. It's wild.

TheGrifReaper

(@grif2005) reported

@Tracy__Lavender @PaladinsGame Yes but that the Switch player gets DC'ed a lot and we already have the issue that before every match the game makes us reboot

Ness (husband material) 🇲🇦

(@thatfe3hbitch) reported

@launndryyyy @PaladinsGame They're first a video game company plus every event they celebrate it the same way ( Christmas, women's day, saint patricks...) and pride isn't a month thing it's a human right issue

D

(@dillon12424142) reported

@Nebulizer_87 "Hey this thing was broken that everyone hated so we deserve to be OP even though Ret paladins have been top tier all of Shadowlands, most of legion, all of WoD, most of MoP, and only bad in BfA!!!"

D

(@dillon12424142) reported

@shelton489 @ElliottVenczel Because ret paladins are factually OP. Even if he has been biased before does not somehow mean Rets aren't broken. That isn't even bias by him either to claim they're busted, even the very best Rets in the game are painfully aware of how broken the spec is right now.

D

(@dillon12424142) reported

@Pallehx I mean I know when ret gets broken it's usually pretty fotm But this is by far the most broken state I have ever seen ret paladins in LMAO

Bicmex

(@bicmex) reported

okey but can they hotfix ret paladins and shields/absorbs not working as fast as they nerfed demo lock? thanks

farseer jerri 🪐🌌

(@yoseis) reported

@hyunlochlain @WarcraftDevs We'll make half elf an option or give me night elf paladins and I'll fix that

𝕮𝖍𝖆𝖗𝖑𝖎𝖊🦇

(@The_Chameleon__) reported

@cybele_sun I've been playing Paladins since before OW because it was free on my switch long before OW came to switch. Right now it's having some issues from the latest update but because it's cross platform all my friends can play with me but it still has the heart that OW kinda lost to me

Orph

(@Orph_Gaming) reported

I got slapped out in the world questing by 4 different Ret Paladins tonight. Almost didn't have a chance to respond. They are broken and it's kind of laughable. Can we not? #Warcraft #Dragonflight @WarcraftDevs

Bio

(@BioLex21) reported

@DevilishRR @PaladinsGame Yeah make her so she was working on customer service or something before wanting to end the world imo totally understandable

Eurobeat Cowboy

(@iffymask) reported

I think I do the Paladins community a service by being a cowboy.

Lena❦

(@malphigius) reported

Paladins has the same issue as Valorant, where the character designs and abilities are sick But they do NOT know how to make cool voicelines for most of the characters 💀

smitty scribbles 🦍

(@SmittyScribbles) reported

To anyone who consistently plays #Paladins I'm gonna say the random crashes that stay in game for more than 5 minutes has always been a problem? I just bought the dang pass, I keeps crashing on me 😭

THELLIEL

(@thellielblades) reported

is anyone having problems logging into paladins? xbox platform. my game keeps connecting and when it connects there is a delay in finding a match, when it finds my champion it is already selected automatically and it crashes, I have to close the game and open it and I am in a+

Sonavir

(@Sonavir_) reported

Genuine #PaladinsGame question - why does the Aico house (and everyone else, seemingly) have more pressing issue with the Ska'drin than the goblin race who caused the Scourge?

PIERREARTZ RETURNS

(@KingPierreartz) reported

AND **** @PaladinsGame, @EvilMojoGames, THEY CAN SUCK MY ******* WHITE ****. FIX YOUR ******* DUMB *** ***** GAME. #paladinsart #paladinsgame

RONALD

(@thesteelmoose) reported

SDSU defense is gonna give Bama some problems. So long Paladins😔

nyx

(@irlpercabeth) reported

i got so much respect for characters like percy jackson, the paladins, harry potter ect cause if someone told me EYE had to stop a war i woulda told them to figure they **** out themselves 😭😭 like oh y'all fighting inna battle?? well that's tew damn bad but not my problem!!