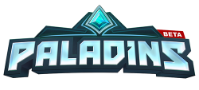 Is Paladins down?
No problems detected at Paladins
If you are having issues, please submit a report below.
Paladins: Champions of the Realm is a free-to-play multiplayer Hero shooter video game released on September 16, 2016 as an early access product by Hi-Rez Studios.
Paladins problems in the last 24 hours
The following chart shows the number of reports that we have received about Paladins by time of day over the past 24 hours. An outage is determined when the number of reports are higher than the baseline, represented by the red line.
At the moment, we haven't detected any problems at Paladins. Are you experiencing issues or an outage? Leave a message in the comments section!
Most Reported Problems:
Sign in

Game Crash

Online Play

Glitches

Matchmaking

Hacking / Cheating
Paladins Outage Map
The most recent outage reports and issues originated from:
| | | |
| --- | --- | --- |
| Tonalá | Game Crash | |
| Brussels | Sign in | |
| La Serena | Sign in | |
| Méréville | Glitches | |
| Saint Paul | Online Play | |
| Heredia | Game Crash | |
Full Outage Map
Paladins Comments
Tips? Frustrations? Share them here. Useful comments include a description of the problem, city and postal code.
Paladins Issues Reports
Latest outage, problems and issue reports in social media:
mojicore

(@mojicores) reported

is paladins like being weirdly laggy for anyone else? usually it actually runs fine for me but lately ive been lagging a bit

The Mandochlorian

(@potatoaim04) reported

@PaladinsGame are you planning on fixing the ads glitch anytime soon? I keep getting it and it's honestly ruining my gameplay. Along with other glitches after the saati update

X man

(@PorzingodJones) reported

@PaladinsGame fix your ****! 3 times my game has crashed during the join screen, now I'm banned for an hour. How is this still an issue!?!?!?

Sexhaver69

(@__Zer0_0) reported

@DeadByBHVR somehow this game is more broken than paladins, what zero competition does to a mf

Ozon3

(@Ozon3TV) reported

@The_Apxche The problem ultimately comes down to the fact that Paladins works (even with cheaters) because unless your rage hacking aim is only a small factor in how the game plays. They needed to improve their anti-cheat to compete in a true FPS/3PS gametype for competitive integrity.

MALIQUE THE GAMER | BLM✊🏾

(@maliqueTG) reported

Unfortunately I had issues with Paladins earlier today 😭

jozoo

(@jozzoor) reported

@PaladinsGame Anyone ever asked them selves when these brains will fix a simple issue such as crashes? Why do we have to play with bots every single game? Doesn't matter if it's casual or ranked, there's always a bot in the team. Why isn't anyone making a big deal about this?

PitifulSubset

(@PitifulSubset) reported

@JunkFoodJunky3 @PaladinsGame I don't see a issue

That One Guy

(@JunkFoodJunky3) reported

@PaladinsGame Can you guys fix corvus's projection? it either doesn't work only tps me half way to the dagger

AQUA spamz L

(@l_spamz) reported

@PaladinsGame Bro i have a broken wrist so i cant play :(

Pokemon Trainer Solar

(@KellyGillies1) reported

@IK11115 @Clearknight1 @PaladinsGame There really is nothing. No new gold titles, no gold frames, deathstamps, death cards etc. The bounty store Was something, but it's too broken to be any good

Peanut Butt

(@MercyTrashBot) reported

Can somebody prove to me that Fernando isn't broken??? #Paladins #paladinsgame

MoonCourage

(@CourageousMoon) reported

@PaladinsGame CRASHES THE WHOLE PS4 CONSOLE! During the Victory screen in the new Stone Keep (DAY) the console restarts with an a message stating that there was an error in the system software the last time the console was used and an option to report the problem. @HiRezRomanova

Zeno, The Honest

(@ZenoKagemaru) reported

And ******* perfect. That's twice in not even an hour now where simply playing @PaladinsGame has caused my console to crash. Watch them take until the next battle pass season to "fix it".

TrashBoostedSymmetraMain

(@BoostedSymmMain) reported

@13ntyn @primegaming @PaladinsGame I played her for a few games (ps4) and didn't get this problem, I'll try to ask around maybe

juri

(@arnold_yyz) reported

@PaladinsGame Fix your servers

juri

(@arnold_yyz) reported

@PaladinsGame @primegaming Fix your servers

🎵🎤P.K.F.🎤🎶

(@PKF_is_funky) reported

I just encountered a player in paladins. Who didn't even play, and no they didn't disconnect and let a bot play. They just sat in the corner of the room. And they eventually tried to report me. What the hell would they report me…

RedRumAD

(@RedRumAD1) reported

@BoioDruid @joblesscloth @PaladinsGame An easy solution is use a separate chat service such as Discord, then only people in the chat can hear you.

Rigby0999

(@rigby0999) reported

@PaladinsGame how come you never made the servers better in this update I've been suffering with delay issues to my weapons doing no damage and lag spikes and when I keep playing the game it potentially gets worse over time oh and this has been going on since vatu was released

MR.MCPOOPZ

(@MMcpoopz) reported

@PaladinsGame @primegaming Can u pls fix kahn his dash bugs a lot and his ult is very inaccurate pls put a indicator or sumthing telling u he can grant cuz he is a majority fav tank and he feels horrible rn

Reyvaldi

(@ME_Reyvaldi) reported

@PaladinsGame @primegaming Can you guys fix corvus teleport issues, sometimes the teleport didn't work and it's kinda bugging like it's not teleporting in the right place, for example i throw knife through the enemy & the knife are behind the enemy but when i cast the tele, i teleport in front of the enemy

MIGUEL

(@_MiguelCH8) reported

@PaladinsGame @primegaming there is a glitch in the new map they put in, when you finish the game the game crashes and you have to restart the console

TrashBoostedSymmetraMain

(@BoostedSymmMain) reported

@13ntyn @primegaming @PaladinsGame Isn't that a screen problem? Anyway not the right place to post this but let me know if i can help

DaRkKG

(@DaRkKkujo) reported

@HiRezRomanova @ELDEFENSOR44 @HiRezRomanova there is a bug that When you end a match on stone keep the game crash and give you an error from paladins and ps4 It happen in the two variants (day and night) hope that you can answer as soon as you can.

_hi _

(@Justinh00925559) reported

@primegaming @PaladinsGame Fix y'all servers please

The Jerseyian Drenation21

(@DreNation21) reported

Still having tech issues with most my games idk why I'm having these issues its really annoying but fortnite crashed so we switched to Paladins

Џинка

(@theginka1) reported

@PaladinsGame fix the game crashes on PS5 since updating the latest patch

Cynicalgypsy

(@cynicalgypsy) reported

@PaladinsGame every time I finish a game, the whole application crashes on ps4. Please fix.

Cynicalgypsy

(@cynicalgypsy) reported

@PaladinsGame every game I play crashes the game please fix for ps4..