Fido Outage Map
The map below depicts the most recent cities in Canada where Fido users have reported problems and outages. If you are experiencing problems with Fido, please submit a report below.
Loading map, please wait...
The heatmap above shows where the most recent user-submitted and social media reports are geographically clustered. The density of these reports is depicted by the color scale as shown below.
Fido users affected: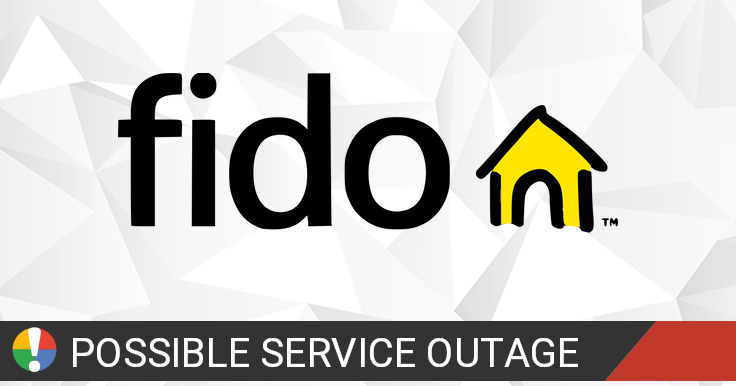 Fido Solutions is a Canadian cellular service provider offering mobile phone and mobile internet service. Fido owned by Rogers Communications.
Check Current Status
Most Affected Locations
Outage reports and issues in the past 15 days originated from:
| Location | Reports |
| --- | --- |
| Toronto, ON | 286 |
| Brampton, ON | 76 |
| Montréal, QC | 42 |
| Mississauga, ON | 22 |
| Vancouver, BC | 17 |
| Ottawa, ON | 15 |
| Barrie, ON | 13 |
| Kitchener, ON | 13 |
| Scarborough, ON | 12 |
| Surrey, BC | 10 |
| North York, ON | 9 |
| Woodbridge, ON | 8 |
| Hamilton, ON | 7 |
| Calgary, AB | 6 |
| Etobicoke, ON | 6 |
| Richmond Hill, ON | 6 |
| Guelph, ON | 5 |
| Orangeville, ON | 4 |
| Oakville, ON | 4 |
| York, ON | 4 |
| Whitby, ON | 4 |
| Greater Sudbury, ON | 4 |
| Gatineau, QC | 4 |
| Burnaby, BC | 3 |
| Winnipeg, MB | 3 |
| Markham, ON | 3 |
| Thornhill, ON | 3 |
| London, ON | 3 |
| Downsview, ON | 2 |
| Milton, ON | 2 |
Community Discussion
Tips? Frustrations? Share them here. Useful comments include a description of the problem, city and postal code.
Beware of "support numbers" or "recovery" accounts that might be posted below. Make sure to report and downvote those comments. Avoid posting your personal information.
Fido Issues Reports
Latest outage, problems and issue reports in social media:
Mark Ban

(@markbmgmt) reported

Paid more for extra data and it doesn't even work when I need it most. Fix ur **** @Fidomobile.

🏳️‍🌈jennifer🏳️‍🌈

(@jen_niffer_may) reported

@Fidomobile @FidoSolutions is service down in Kitchener-Waterloo? This entire morning I cannot get any service anywhere I go, and it keeps telling me I can only make emergency calls.

UdamScum

(@AnnoyingCritic) reported

Hey @Fidomobile you guys are down in St. Catharines. Did the corporate overlord oligopolies want us consumers to suffer beyond just the prices you charge???

Nunya Biznez

(@GwapogiTalaga) reported

@EsBeeEf @Fidomobile Yup. No phone service since I left the house at 530am

💩🧇

(@2ndHazel) reported

Hey @Fidomobile @FidoSolutions I can finally send text messages but I can't access my account online, get ahold of anyone on the phones OR live chat to find out what you're going to do to fix this. Where's my solution?

Kamere's mom

(@playa_sirena) reported

@Fidomobile what's going on with your service today? I can't make calls, can't connect to maps to get to my medical appointment, says no internet service and data isn't kicking in, text messages are not going through! Unacceptable! I can't even call you! Only internet w/wifi

firefox

(@firefox99954149) reported

@Fidomobile @FidoSolutions Not able to make or receive calls, customer services keeps disconnecting, chat not able to connect

firefox

(@firefox99954149) reported

@EsBeeEf @Fidomobile Looks like its down all over

JManroe

(@mmanroe__) reported

Um @Fidomobile , fix it

Gary LP

(@gary_poy) reported

@judes1487 @Fidomobile Same here, not working me since 6:30am. (in Mississauga)

charlotte warrander

(@charrrcharrr) reported

@_aliciaab @Fidomobile I'm with Rogers but my service seems super bad?!

Dorian

(@DCarlmikael) reported

So, @Fidomobile is down and they don't even care to post something about it! Time tochange network I think

peachesagain

(@peachesagain) reported

Is Fido not working today in Hamilton? #FIDO @Fidomobile

LoverofLiberty

(@Kristamich1) reported

@judes1487 @Fidomobile Nation wide outage NO ETA to fix

Gautam Jain

(@gautamjain101) reported

@Fidomobile No Voice/ Internet , what is reason for this issue and when it will be fixed?!
Check Current Status